Address: Plazuela Capuchinos 2,Segovia, Spain, 40001
Telephone: 921 415 250
Fax: 921 460 006
Latitude: 40.9519166
Longitude: -4.1230998
Contact & map
How to get to the hotel
Address:

Plazuela Capuchinos 2,Segovia, Spain, 40001

Telephone:
Fax:

921 460 006

latitude:

40.9519166

longitude:

-4.1230998

Email:
Eurostars Convento Capuchinos Hotel is located in Segovia's old town in Plazuela Capuchinos 2, next to the San Quirce Academy.
Latitude, Longitude: 40.951, -4,123
40º 57,11 N / 4º 7,385 W
Altitude 999,745 m / 3279,165 ft
If you're using a GPs, we recommend you look for Calle San Quirce in order to locate our establishment and get here more comfortably.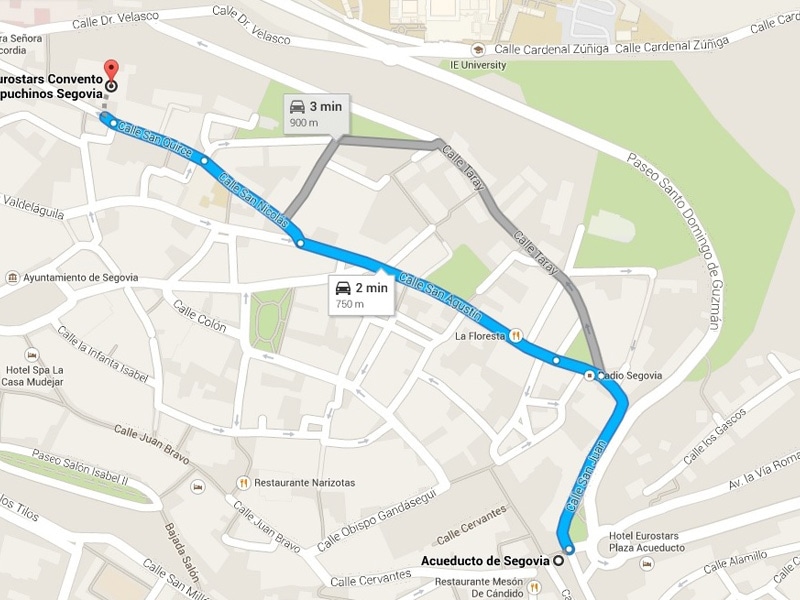 Many locals know this building as "Convento de las Oblatas". The first "occupants" of the monumental building were the Capuchin monks, but the Oblates were the last nuns to inhabit this unique space.
The quickest way to get here when coming from either Burgos, Valladolid or Madrid is from Plaza del Acueducto or Plaza de la Artillería.
• At Plaza del Acueducto, take Calle San Juan, which takes you up towards the Courts of Segovia, located on Calle San Agustín.
• Turn right towards Calle San Nicolás. 130 m.
• Continue straight onto Plaza San Nicolás. 9 m.
• Continue on Calle San Quirce. 87 m.
• And you'll have arrived at Plaza Capuchinos. The hotel's main entrance is located in the barred area from which you can access the Convent Church.
The hotel is less than five minutes' walk from the Plaza Mayor, the Cathedral, the Church of San Esteban, the Antonio Machado House Museum or the Hospital de la Misericordia, and less than ten minutes away from the Aqueduct and the Alcázar de Segovia. The hotel's location over the surrounding area offers beautiful panoramic views of the Eresma riverbed and the Alameda.
The hotel has covered parking with direct access to the hotel.
From the bus station
The national coach network is the easiest and most cost-effective way to get to Segovia. The system is managed by several private operators.
Avanza Bus
This bus company offers routes to Madrid, Ávila and Salamanca. The bus from Madrid to Segovia departs from Moncloa and takes an hour.
IMPORTANT NOTICE
: Calle San Juan is the main road through historic centre and the one that leads to the hotel entrance through tight alleyways; however, we recommend reading the information below if you will be arriving by car so that you can avoid these tight streets and get straight to the car park.
If you're coming by car is through the Cathedral Car Park, put this address into your SatNav: Calle Dr. Velasco, 26, which is where the entrance is located. Once inside the car park, our spaces are on the second floor and the third floor as well. Once there, there's a lift that you'll have to call using the intercom that connects with the hotel. It costs €15 per night.
We're sorry for any inconvenience this may cause.