Starting from 204,54€
Best Price Guaranteed
Book now
200,28 €
(Hab/noche)
my reservation
"Essential Munich"
1st Eurostars Hotels Munich Photography Prize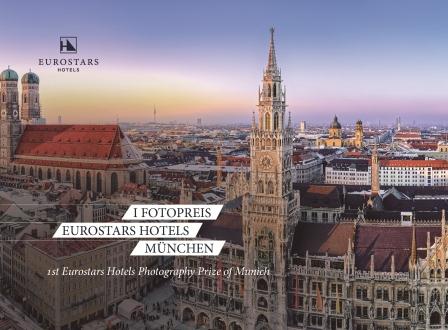 Hotusa Group invites all citizens and visitors to participate in the
Eurostars Hotels Munich Photography Prize.
The contest winners will be the authors of photos that the panel of judges deems to best reflect the theme:
"Essential Munich".
The
Eurostars Hotels Granada Photography Prize
will recognize the photos that capture or interpret this topic from an innovative perspective.
The 1st Eurostars Hotels Munich Photography Contest will recognise the photos that capture or interpret the theme "Essential Munich" from an innovative perspective.
A stroll through the streets and historical city centre of the capital of Bavaria allows visitors to see all the best sites in Munich. One of the city's most famous spots is Marienplatz, a central square in the heart of the city. The square features the Marian Column and the Old and New City Halls, which are some of visitors' favourite sights. The Cathedral Church of Our Lady or Frauenkirche is an important historical landmark in the city, dating back to the 15th century, and its structure is an important part of the city's skyline. One of the spots that shouldn't be missed is the Englischer Garten, the largest park in Munich. This green oasis is a marvellous place to explore and take some of the best shots of the city.
Any part of Munich is capable of reflecting and being photographed under this theme.
The winning photographs may be used for
decoration of Eurostars Hotels establishments
or other hotel establishments managed by Hotusa Group.
How to participate?
Anyone interested in participating in the contest may do so before the
18th of December of 2017
on the site dedicated to the contest, where they can upload a maximum of three different series.
To do this, they must load their works on the site following the established format:
a series of three photographs that, as a whole, comprise an artistic unit.
Each participant can deliver a maximum of three series.
To present the photographs online, participants must upload
a single canvas of 30 x 100 cm in which will appear the three photographs and the 5 cm spaces between them.
The works must have a recommended weight of between
1 and 6 MB.
(See more details in the competition rules).
Prizes
The winner will receive €2,500 and the first runner-up will get the Special Grupo Hotusa Award, valued at €1,000. The other 8 runners up will receive a free stay at the Eurostars hotel of his election.
Contest Terms
Photo contest